Travis Richardson writes hard-edged noir, as you can see from his work at places such as Shotgun Honey and Flash Fiction Offensive. He is a Derringer finalist and loves a bit of Jim Thompson. Welcome, Travis.
Which book are we talking about?
Pop. 1280 by Jim Thompson
Dark, nihilistic noir. What's the appeal for you?
I like that the story goes beyond noir. It has social commentary about small town values and a lot of twisted humor. You get the perspective of the sheriff of Pottsville who seems to be the stupidest man in the county, but slowly you start to see a darker, hidden intelligence.
What does the sheriff aim his intelligence at? What's his world view?
It seems that Sheriff Nick Corey just wants to get re-elected, but he is a master of manipulating people who think they are smarter than him. His world view is that he is superior to everybody else.
For what purpose does he want the office?
He would tell you it's the only job he knows to do – without the sheriff's position he'd be homeless. But really the position gives him the power to see all that happens in the county, the authority to carry a gun, and the feeling of immunity when he uses it.
Does Corey epitomize Thompson's view of the police? Of authority overall?
That's a great question. Thompson's father had been a sheriff in Anadarko, Oklahoma, and moved his family out of town under the cover of night after he was accused of corruption. He did not see his father for a couple of years as he went into hiding in Mexico. Later in life when Thompson was in his twenties working alone on the top of an oil derrick, a deputy drove up and told him he could kill the soon-to-be-novelist and nobody would accuse the deputy. That incident chilled Thompson and became the genesis of The Killer Inside Me. Overall I think Thompson saw the law/authority as people having unchecked (or immense) power that could easily lead to corruption (and inflation of sociopathic egos).
That is frightening. You mentioned the novel's social commentary. How do the 1280 people of Pottsville treat and react to Corey?
They see him as an imbecile, but are fine with the sheriff because he won't get in their way if they do something outside of the law. The population of Pottsville operates like a mob. Unfounded rumors can lead to violence and quick mistrust, which Nick uses. The people are also racist, and while amoral, Nick interferes during the beating of black man by making an absurd argument about using city property for abuse while allowing the victim to escape. Nick knows the messed up values of the population. He doesn't try to change them, but manipulates the people in the moment and doles out punishment later. In some ways the book comes across as an absurd farce, but all of this is happening today. (Social media outrage, people believing outright lies, etc.)
The book was published in 1964, the same year as the Civil Rights Act. Is the movement weaved into Pop. 1280?
Great question. It's not. Pottsville is so isolated (Potts County is the smallest in Texas) and the people are set in their ways with strong prejudices, which they don't mind voicing out loud. Even though Nick Corey uses the people's sentiments to get to his ends, while being intelligent enough not to believe it, he is also a cold-blooded killer with a growing god complex. He will kill the people he saves if they become trouble for him later on. The book exploits the ugliness of small towns, but it is through the eyes of an even darker (and misleading) narrator.
Jim Thompson led an interesting life, including procuring high grade drugs and marijuana for guests at the Texas hotel where he worked as a bellboy. You could say he had an amoral view of life. Is Corey (and Lou Ford from The Killer Inside Me) an extreme extension of the author?
Hmm. I'm not sure. For one thing Thompson was an alcoholic and I could be wrong, but I don't think either Luke Ford or Corey drink much, if at all. They are surrounded by booze and others drink it to their peril. It's as if they want a sober mind to have the edge on everybody around them. Thompson never seemed to have that edge in life. He scrambled to keep his head above water, working any job he could find – and his books, while admired, were never bestsellers. He even got screwed over by Stanley Kubrick when he wrote the screenplays for The Killing and Paths of Glory. If anything, Corey and Ford, are antithetical to Thompson: they get what they want and have control. Thompson had neither. Perhaps he wanted those qualities, but felt you needed to be a sociopath to have them.
Corey's clearly amoral in what seems an amoral town. Does he have any redeeming characteristics?
As a reader, it's fun to see him expose all of the small town prejudices and for a while it seems like he has a moral code under his bumpkin veneer. But by the end he's lost any morality as his ego inflates to the point he believes he's above man's laws. He's like a trickster god/spirit in fables, but without supernatural abilities.
If Corey is the protagonist, who's his antagonist? What's their motive?
Corey has several antagonists including: Pimps who berate Corey because their payoffs entitle them. A condescending neighboring sheriff who believes he can teach the slow-witted Corey through humiliation – with a literal ass-kicking. A do-gooder running for sheriff to end corruption in Pottsville. A hateful wife who uses Corey's position and "ignorance" to carry on an affair with her supposed half-witted brother. A wife-beating drunk who causes trouble in town and beats Corey's mistress out of self-loathing. Two mistresses who don't know about each other, but both have explosive personalities that could undo Corey if they find out.
There are several competing conflicts flying around that Corey has to juggle and with each victory he feels more powerful.
How does the do-gooder come off? The town and its sheriff sound so venal you'd think the principled man would be someone to root for. Or does he rub you up the wrong way?
Not well. He's hardly seen as Corey tells the district attorney/store owner that he'll defend his opponent's honor against all the vicious rumors going. When pressed about what they are, Corey says he'll not repeat them. The populace speculates, each rumor worse than the next, and soon the do-gooder is run out of town. Corey acts as if he's defending him the entire time.
Erik Pruitt called your work "bleak, uncompromising and funny." How deep has Thompson hooked his claws into your writing?
He has to a degree. Definitely the twisted humor, overall darkness, and social commentary – without preaching (i.e., show people's ugly prejudices without stating it is wrong.) I identify with him being an Okie and working several manual jobs before writing. The one thing I can't do well is write sociopaths and psychopaths like he can. I usually write people with consciences, who make bad or detrimental choices. Often they are screw-ups, tripping over themselves, or misguided in a moment of emotion. Thompson wrote several characters who are, or believe, they are in control (perhaps projecting his desire for a quality he didn't have?) I feel Thompson's overall character psychology is stronger than mine and it is something to aspire towards. Also, some of his books build up to a strong finale, but the concluding sentences are more philosophical than a punctuated climax. I don't have the nerve to try to pull that off.
How important is humour when reading and writing noir? Can you give an example from Pop. 1280?
It's a fun thing to add, but not necessary. It's also tricky to do right because it can derail the tone of a story. Humor can also add or alleviate tension in a scene. One way to is have a straight character, stressed out of his mind in an absurd situation, each choice more frustrating for the character, but funny for the reader. Another is to have a character with funny lines or perspectives that are out there. Corey's first person narration is long-winded, but funny in his euphemisms and sideways approaches to issues. An example might be the district attorney/storekeeper asking Corey why he doesn't act honest and courageous if he wants to win an election.
I shook my head, and said I couldn't "I just plain can't, Robert Lee, and that's a fact."
"No?" He leaned back in his chair. "And just why can't you, pray tell?"
"For a couple of reasons," I said. "For one thing, I ain't real brave and hard-workin [I hit return instead of apostrophe.] "For one thing, I ain't real brave and hard-workin' and honest. For another, the voters don't want me to be."
"And just how do you figure that?"
"They elected me, didn't they? They keep electing me."
Later in the same scene with Robert Lee, Corey talks about what a great man his opponent Sam Gaddis is.
"I know Sam's as good a man as they come. That's why I can't understand how all these stories about him got started."
"Well, that's fine. I–what?" He stared at me startled. "What stories?"
"You mean you ain't heard?" I said.
"Of course, I haven't! Now just what are these stories?"
I made as if I was about to tell him, and then I stopped and shook my head. "If you ain't heard 'em, you sure ain't gonna hear 'em from me. No, siree!"
He took a quick look around and leaned forward, voice lowered. "Tell me, Nick. I swear I won't repeat a word you say."
Nick continues to refuse to say anything and Robert Lee starts asking around, setting off the rumors. It's absurd and silly and yet it works with violence in between.
Does the proposed film adaptation of the book excite or scare you?
Mostly excited. Yorgos Lanthimos wrote and directed one of the weirdest and disturbing domestic dramas with Dogtooth. It is about parents keeping their adult children isolated in a permanent state of arrested development. They have no concept of the outside world. The movie was bizarre, with dark humor throughout. He created that environment in a matter of minutes. I feel he'd be able to get the social commentary of Pop. 1280 along with the multiple plot points that Corey has to deal with. There is a lot that Thompson wrote about in Pottsville that is appropriate in today's political climate.
There are some books like Cormac McCarthy's Blood Meridian that I wouldn't want to see on film, the savagery is too much. The theme is evil consuming everything until only the worst survives. I didn't care for the movie, The Killer Inside Of Me as it dwelled on the violence of Luke Ford and not the person he'd been – helping out neighbors, patient arrests, etc. – before the psychopath emerges. But don't think anybody needs to remake TKIM either. Let stay it as a book.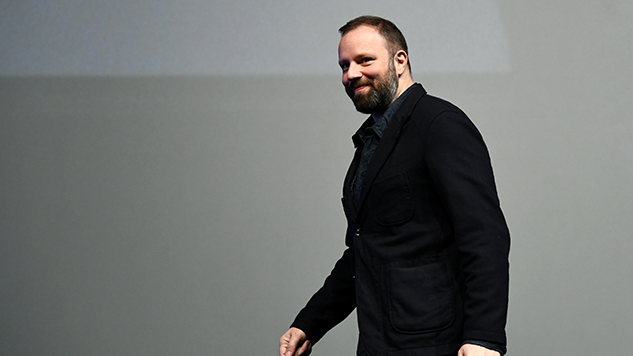 What do you think Thompson would make of the world as it is now?
He'd shake his head and wonder how Texan sensibilities made it to the national stage – pomp over substance, grand statements without evidence, using emotion and prejudice to sway a nation. He might even say I warned you about this evil.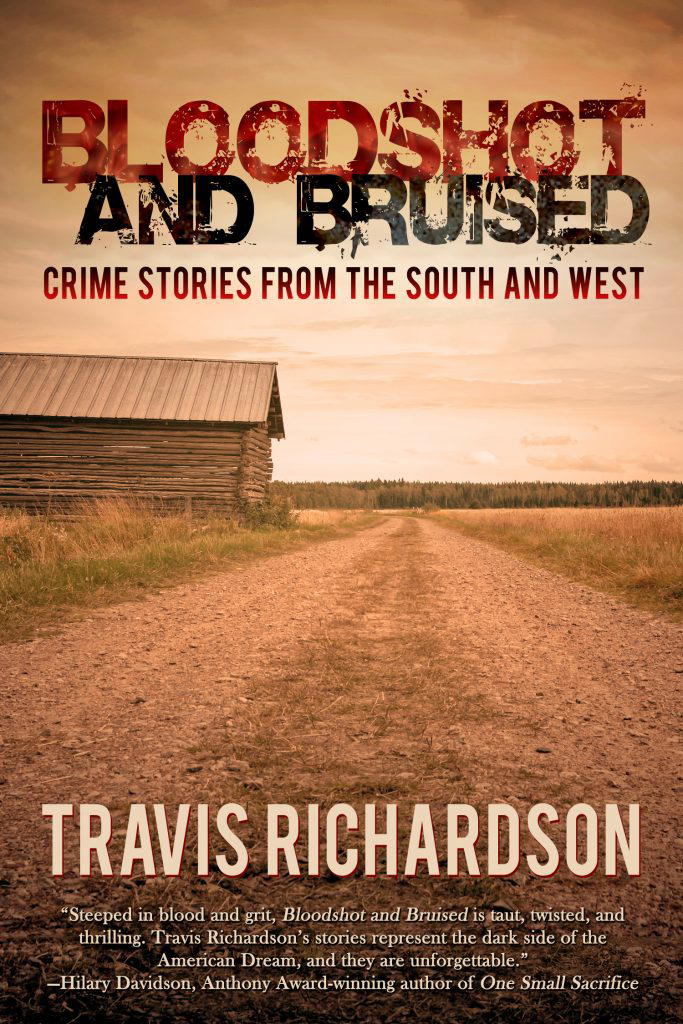 Your short story collection, Bloodshot and Bruised, has had high praise from top Crime writers Jordan Harper, Hilary Davidson and Eryk Pruitt. Do you have plans to write longer works?
I hope so. I have 5-6 manuscripts that are in various stages and outlines for more. Hoping I can have something finished and in good shape by the end of the year.
That's a ton. How do you keep each straight when you're writing? Do they bleed into each other?
I try to make the stories distinct and different from each other. Often with unique characters that can't be interchanged, tones specific to that book, and locations that are different. I have quartet of noir novellas set in the West Texas town of Tarwater. While the town may be a grade above Pottsville, it's not by much. Three are finished, but the finale is killing me. The opening is strong and I know the end, but the middle is a mess. I wrote the sequel to my first novella LOST IN CLOVER – set in Kansas with a man getting over survivor's guilt – called POLICING CLOVER, but hesitated sending it out as there was a lot of police work which I'm afraid of getting wrong. I started to change the location to Oklahoma, based on my home town, and start fresh. I began a Western last year where a marshal tries to bring justice for a transvestite murdered by a celebrated murderer. (This has Pop. 1280 themes.)
I've written a few comic stories. One is set in the near future after a big earthquake hits LA and a C-list actor wakes up from a coma to become a messiah. I started a second person account of a sidekick to an 80s super-slick cop, making fun of action tropes.
I also started to reconfigure a my first detective novel from third to first-person. I wanted to avoid this, but it might need to be this way to work right.
Finally, I made a 15 page outline to extend a short story into a Don Winslow-esque thriller. The problem is that the story might need to be told in 2 parts. In between, I write short stories. My wife is pushing me to focus on one novel this year. Hopefully I can.
Much to look forward to, then. Here's to your wife keeping you on the straight and narrow.
Travis, you've been a great guest. Any last words on Pop. 1280?
These were great, insightful questions. I'd say, that Thompson isn't for everyone, but between the brutal scenes, uncomfortable dialogue, and overall chaos, is an exploration of truth. And it isn't pretty.
Thank you, Jason. These were very thoughtful questions. I enjoyed digging deep for the answers.
Read on:
5 Questions with Travis Richardson5 Questions with Travis Richardson
Here are some Travis Richardson short stories to bite into:
Here's to Bad Decisions: Red's Longneck Hooch at Shotgun Honey
A Misunderstanding at Flash Fiction Offensive